Photo by TriStar
In December 11 1991, was released one of the most famous movies from the 90's, 'Hook'. The movie is about Peter Pan, who has grown up to be a cut-throat merger and acquisitions lawyer, and is married to Wendy's granddaughter. Captain Hook kidnaps his children, and Peter returns to Never Land with Tinkerbell. With the help of her and the Lost Boys, he must remember how to be Peter Pan again in order to save his children by battling with Captain Hook once again.
Stars: Dustin Hoffman, Robin Williams, Julia Roberts, Maggie Smith
Director: Steven Spielberg
To celebrate the 25th anniversary, here are some of the curiosities about this movie.
Maggie Smith, being only 56 years old at the time of filming, was aged up by makeup to play 92-year-old Granny Wendy.
The kissing couple who begin to float when some fairy dust lands on them are actually George Lucas and Carrie Fisher in a cameo.
The original "Peter Pan" included only six Lost Boys (Slightly, Tootles, Nibs, Curly, and the unnamed Twins).The unnamed twins appear in the imaginary food scene. Tootles, of course, is the elderly man who lives with Wendy.
Robin Williams's upper body and arms were shaved for his role in the film.
Because Tinkerbell was often in the air, Julia Roberts had an assistant whose sole responsibility was cleaning her feet.
Dustin Hoffman's three children make appearances in the movie. His youngest son, Max Hoffman plays 5 year-old Peter Pan. His daughter,Rebecca Hoffman plays Jane in the play at the beginning of the movie, and his oldest son, Jake Hoffman plays a little league player in Jack's baseball game.
One of the pirates who attempts to steal Peter's shoes when he first arrives in Neverland is played by singer Jimmy Buffett.
Rock star David Bowie turned down the role of Captain James Hook.
Both Dustin Hoffman and Robin Williams's stunt doubles were named Keith. When Steven Spielberg called for Keith to come to the set, both Keiths showed up. Eventually, Hoffman's stunt double changed his name from Keith to Keifo.
The teddy bear from Captain Hook's cabin was accidentally given to Julia Roberts by Steven Spielberg when she checked in to hospital for nervous exhaustion. Spielberg realized his mistake the night before he was due to shoot a scene in Hook's cabin, and the prop department had to rustle up a look-alike in a matter of hours.
Tom Hanks was considered for the role of Peter Pan which went to his late friend Robin Williams. Both men have worked with Steven Spielberg and close friends with him as well.
The film cast includes six Oscar winners: Robin Williams, Julia Roberts, Dustin Hoffman, Maggie Smith, Gwyneth Paltrow', Phil Collins; and three Oscar nominees: Bob Hoskins, George Lucas and Glenn Close.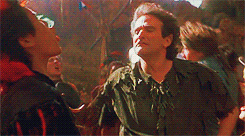 Source: Imdb