Winnie-the-Pooh is unarguably one of the most recognizable characters in children's literature, as are his friends: Christopher Robin, Piglet, Eeyore, Tigger, Rabbit, Kanga, Roo, and Owl. Generations of children have loved Winnie-the-Pooh, the Best Bear in All the World. But how did it all begin?
Alan Alexander Milne had already achieved modest success as a humorist for 'Punch' Magazine and as a playwright and mystery author. He might never have written for children had it not been for the birth of his son, Christopher Robin Milne, in 1920.
Back in 1921, a small stuffed bear bought fro Harrods department store was given to Christopher Robin (more often called Billy), from his mother, Daphne. This bear was called Edward at first, and sometimes Big Bear, or Teddy Bear. The story of how Christopher's toy became knows as Winnie-the-Pooh has two parts, Winnie and Pooh.
A real bear named Winnie was a popular attraction at the London Zoo. At the outbreak of World War I,a Canadian veterinary surgeon was on his way from Winnipeg to join the second Canadian Infantry Brigade when he bought a bear cub from the hunter who'd shot the cub's mother. The young officer named the cub Winnie (for Winnipeg), and the bear accompanied him to England and became the company's unofficial mascot. When the soldiers left for France, Winnie was left in the care of the London Zoo, and it was there that Christopher Robin discovered her. Winnie was incredibly tame, and on one occasion Christopher was allowed into Winnie's cage to feed her. Although the "real live" Winnie did not like honey, she did have a sweet tooth and reportedly preferred condensed milk to raw meat.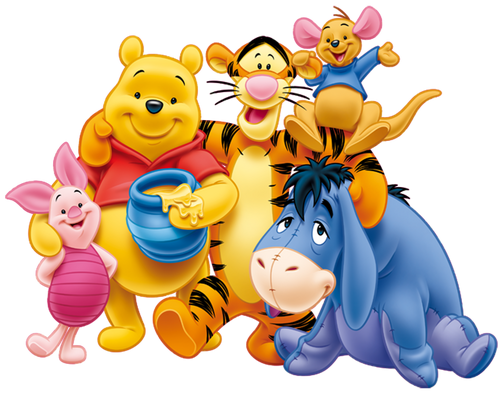 The name "Pooh," rather surprisingly, came not from a bear but a swan. In the introduction to hen 'We Were Very Young', A. A. Milne referred to the swan in the poem "The Mirror": "Christopher Robin, who feeds this swan in the mornings, has given him the name of 'Pooh.' This is a very fine name for a swan, because, if you call him and he doesn't come (which is a thing swans are good at), then you can pretend that you were just saying 'Pooh!' to show him how little you wanted him."
Other stuffed animals joined Winnie-the-Pooh in Christopher Robin's nursery, including Piglet, Eeyore, Kanga, Roo, and Tigger, to be precise. Christopher and his mother played with them together, and Christopher invented voices and personalities for the animals that inspired his father.
A. A. Milne called Owl and Rabbit "my own unaided work." They were the only two characters drawn not from Christopher's toys but from the natural world near Cotchford Farm, the Milnes' property in Sussex.
A. A. Milne's foray into children's literature began with the poem "Vespers."
"Little boy kneels at the foot of the bed,
Droops on the little hands little gold head.
Hush! Hush! Whisper who dares!
Christopher Robin is saying his prayers."
Milne told his wife, Daphne, that if she could sell "Vespers" to a magazine, she could keep the proceeds. "Vespers" was followed by a couple of other poems. Milne did not originally intend to create more, but while he was on a particularly rainy holiday, Milne got the urge to write, and he completed many of the poems that comprised his first children's book, 'When We Were Very Young', published in 1924. Milne's British publisher, Methuen, was not delighted with the prospect of publishing a book of children's poems, having expected another detective novel for adults. It was determined that the poetry should be previewed in 'Punch' first, then subsequently published as a book. When Milne sent the manuscript to his U.S. publisher, E. P. Dutton had a similar reaction: "We are all well aware that the most hopeless kind of manuscript a publisher expects to receive is that of poetry for children." Fortunately, Dutton decided to publish it anyway.
The anniversary of Pooh is marked from 1926, with the publication of Winnie-the-Pooh, but Pooh has a significant walk-on role in 'When We Were Very Young'. Not yet known as Pooh, he appears in the poem "Teddy Bear":
"A bear, however hard he tries,
Grows tubby without exercise."
The editors at 'Punch' chose one of the magazine's regular artists, Ernest H. Shepard, to illustrate the poems. A. A. Milne was opposed to the idea until he saw Shepard's results. At that point Shepard had not seen Christopher Robin's stuffed animals-his drawings of Pooh were based on the beloved Steiff teddy bear, Growler, that belonged to Shepard's son, Graham.
'When We Were Very Young' was an immediate and huge success. Encouraged, Milne began to work on a collection of stories about Christopher Robin and his bear, called Winnie-the-Pooh by this time. At Milne's insistence, Shepard sketched Christopher Robin's animals from life, including the newly acquired Kanga and Roo. The model for Pooh remained Growler. Ernest H. Shepard's contribution to Winnie-the-Pooh was profound. Christopher Milne acknowledged this when he wrote years later, "What is it that gives Pooh his particularly Poohish look? It is the position of his eye. The eye that starts as quite an elaborate affair level with the top of Pooh's nose and ends up at as a dot level with his mouth. And in that dot the whole of Pooh's character can be read."
A. A. Milne was delighted with Shepard's realization of the characters and, on the publication of Winnie-the-Pooh, inscribed Shepard's copy with a verse proclaiming:
"When I am gone,
Let Shepard decorate my tomb,
And put (if there is room)
Two pictures on the stone:
Piglet from page a hundred and eleven,
And Pooh and Piglet walking (157) . . .
And Peter, thinking that they are my own,
Will welcome me to Heaven."
October 14 1926, marked the simultaneous British and American publication of the first novel about Christopher Robin's bear, Winnie-the-Pooh, by Dutton and the British publisher Methuen & Company, Ltd. Winnie-the-Pooh was another tremendous success. Critics hailed the book as a masterpiece (with the exception of Dorothy Parker, who found Milne's work affected). Dutton sold 150,000 copies before the year's end. Milne and Shepard went on to collaborate on two more titles: 'Now We Are Six' in 1927 and a companion volume of Pooh stories in 1928, 'The House At Pooh Corner', which introduced Tigger. Together these four books form the basis of the entire Pooh canon.
In  the 40's, Dutton invited the Winnie-the-Pooh and friends collection to visit the United States. Upon their arrival, it was discovered that A. A Milne had sent along Pooh's official, signed birth certificate to ensure his authenticity. The collection of toys was insured for $50,000 and proceeded to embark on an extended tour of the country.
In 1956 the toys became permanent residents of the United States, living in the lobby of E. P. Dutton & Co. They returned to England only twice: once for an exhibition at the Victoria and Albert Museum honoring Ernest H. Shepard's 90th birthday, and in 1976 to participate in Methuen's 50th birthday activities.
During the flights from England to the United States, Winnie-the-Pooh was treated as a V. I. B. (Very Important Bear), and he attracted quite a bit of attention in the VIP lounges of Kennedy and Heathrow airports. Whether Pooh and his friends went to inner-city public libraries or upscale department stores, they were always received as distinguished guests.
Pooh and friends were removed from the Dutton lobby in 1987 and presented to the Central Children's Room of the Donnell Library Center on West 53rd Street in Manhattan, a branch of the New York Public Library. All four friends were on permanent display in a special climate-controlled case where over 750,000 people visited each year. In 1998, Gwyneth Dunwody, a member of the British Parliament issued a call for the dolls return to England. Politicians including Prime Minister Tony Blair, President Bill Clinton, and Mayor Giuliani couldn't avoid questions from the media on both sides of the pond about where the proper home for the collection should be. After a few days in the media, the story died down and the collection remains in New York City. In 2008, the dolls were moved to the newly created Children's Room at the main New York Public library branch on Fifth Avenue and 42nd St. In fall 2009, a new permanent display will be built to house the collection.
The popularity of Pooh has spread throughout the world and inspired adult works like the best-selling 'The Tao of Pooh' and many children's titles including: cookbooks, board books, cloth books for babies, and a beloved Disney character with its own line of toys, movies, and a television show. Sales of Pooh titles worldwide now exceed 50 million copies.
Over 100 Pooh books have been published by Dutton Children's Books alone, and Winnie-the-Pooh has been translated into over 50 languages, including Czech, Finnish, Yiddish, Afrikaans, and Esperanto. The Latin translation, Winnie Ille Pu, made the 'New York Times' bestseller list in 1960 (the first foreign-language book to do so) and stayed there for 20 weeks.
The collaboration of A. A. Milne and Ernest H. Shepard can be counted as proof that art is either a spark of divine intervention or a chance alignment of circumstances. The distinct personality of each character are represented equally through the text and the line drawings and have become inseparable in our collective consciousness. So let us all say three cheers for Pooh-the Best Bear in All the World.
Source: Penguin